Product Description
Connect Multiple Power Supplies: 4-Pin Interconnect Sync Cable
One of the unique features of our breakout boards released in 2018 is the ability to connect multiple power supplies together in such a way that the power button on one breakout board will trigger the power button on all power supplies synced together.
Connect multiple power supplies together with the chain sync capable breakout boards
This interconnect sync cable allows you to sync two or more power supply units with our X6B, X7B, X11, X12, X15, and X20 breakout board X-Adapters. Our patent-pending Chain Sync feature is accomplished by connecting the interconnect cable from PSU 1 to PSU2, PSU 2 to PSU 3, and so forth. We've tested up to 20 linked PSUs; how many will you sync together?
The cable is approximately 19 inches long.
Package Contents:
(1) interconnect sync cable
Standard 30-day warranty
BREAKOUT BOARDS AND POWER SUPPLIES PICTURED FOR REFERENCE ONLY; NOT INCLUDED.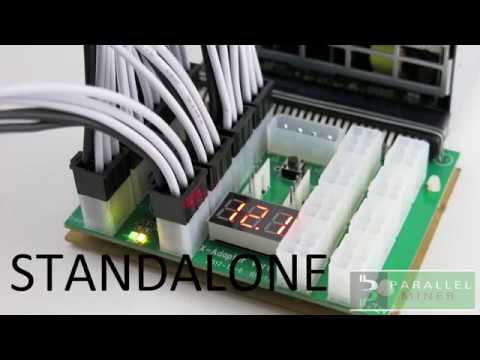 Watch the interconnect sync cable connect multiple power supplies in the above video, starting at the 40 second mark.
Directions
Affix the breakout boards to the power supplies.
Plug in the power cords to the PSUs.
Check the state of each breakout board; turn the boards off.
Attach the interconnect sync cable to the breakout boards: left slot of PSU 1 to left slot of PSU 2, right slot of PSU 2 to left slot of PSU 3, et cetera.
Connect all other cables to the breakout boards and your mining equipment.
Press the power button and commence mining!
Complete X6B to X12 breakout board manual available here as a PDF.
X15 breakout board manual available here as a PDF.
Full X20 breakout board manual available here as a PDF.