Product Description
12 Port Chain Sync Breakout Board for HP, DELTA, LITE-ON Server Power Supply.
Built from it's predecessor the X7B breakout board retains the quality of the X7, X8 while adding several new features not seen in the industry.  It is compatible with two different types of PSU layout, it is backward compatible as a replacement for the X7 and X8 and it can operate in multiple modes. Use this adapter with ASIC miner and GPU mining rigs to mine bitcoin and other cryptocurrencies. Featured modes include:
Standalone
Couple with an ATX power supply for GPU mining with Sync ON/OFF
Interconnected for synchronicity ON/OFF: Up to 20 tested possibly more.
Dual PSU to Single hashing board fault protection Dual fault protection means "If one PSU fails the second PSU will shut off"
XRMT-V1 remote management add-on module. While the X7B is interconnected, use the optional remote power management module to remotely manage ON-OFF / Schedule Restart.
Breakout Board Specifications:
Support up to 120Amp / 1500Watts
Electronic on /off switch. Retains its state
12 PCIe ports, for 6pin connectors
LED indicator lights: Yellow (receiving power) and Green (pushing power)
On-board LED volt meter display
Protective bottom plate
Our Patent Pending Chain Sync Feature through our X6B, X7B, X11, X12, X15, and X20 Breakout boards is done by connecting the interconnect cable from PSU 1 to PSU2, PSU 2 to PSU 3, and so on. Feature tested with up to 20 PSU in a Daisy Chain.
Package Contents:
(1) X7B Breakout board
Interconnect cable, 1 to 2 X7B  - One cable is included for each additional breakout board purchased together.
X7B Manual sheet available here as a PDF
30-day warranty
Power Supply Compatibility List
Note: Not compatible with Dell power supply with Dell Part Number: TCVRR, 0GVHPX, or 0XCHHD.
460 Watts:

DPS-460EB A, HSTNS-PD14, HSTNS-PL14, 499249-001, 499250-101, 499250-201, 511777-001, 503296-B21, HSTNS-PL23B, PS-2461-6C1-LF, 591553-001, 591555-201, 599381-001, DPS-460MB A, HSTNS-PL28, PS-2461-7C-LF, 643931-001, 643954-201, 660184-001, 656362-B21, HSTNS-PR28-AD, HSTNS-PL28-AD, 7001613-J100, 746071-001, 748279-201, 748279-301, 742515-001, 739252-B21

750 Watts:

DPS-750RB-A, HSTNS-PL18, 506821-001, 506822-201, 511778-001, 512327-B21, DPS-750RB-A, HSTNS-PD18, 506822-101, 506821-001, 511778-001, 512327-B21, HSTNS-PL12, 449838-001, 449840-001, 454353-001, DPS-750AB-4 A, HSTNS-PD31, 674890-001, 666375-101, 674275-B21, DPS-750UB B, HSTNS-PD22B, 591556-101, 591554-001, 599383-001, 593831-B21, DPS-750AB-3 A, HSTNS-PD29, 643932-001, 643955-101, 660183-001, 656363-B21, HSTNS-PL29-AD, PS-2751-7CB-LF, 746072-001, 748281-201, 742516-001, 739254-B21, HSTNS-PF04, HPM-S-0750DDL00, 619671-401, 639173-001, 636673-B21, HSTNS-PL34, PS-2751-9C-LF, 697579-001, 700287-001, 697554-201, 697581-B21

1100 Watts:

03MJJP, 0Y613G, 01Y45R, L1100A-S0, PS-2112-2D-LF, PS-2112-2D1-LF, 09PG9X, 0W933G, PS-2112-2L, 0XVKF0, PS-2112-2L LF, 09K3M9

1200 Watts:

DPS-1200LB C, MVKTR-LF, DPS-1200FB A, HSTNS-PD11, 440785-001, 438202-001, 438202-002, HSTNS-PL30, 643933-001, DPS-1200FB-1 A, HSTNS-PD19, 570451-001, 570451-101, 579229-001, DPS-1200SB A, HSTNS-PD30, 643933-001, 643956-101, 660185-001, 643956-201, 656364-B21

1400 Watts:

PS-2142-2L, PS-2142-2L LF, 0Y53VG, DPS-1200MB A, D1200E-S0, 0MYV71, 04V04J, DPS-1200MB-1 A, D1200E-S1, 0RN0HH, 0CN35N, DPS-1200MB-1 B, D1200E-S2, 0J8HPV, 0FRVCP, DPS-1200MB-1 C

1500 Watts:

HSTNS-PL33, PS-2152-1C-LF, 684529-001, 684530-201, 704604-001, 684532-B21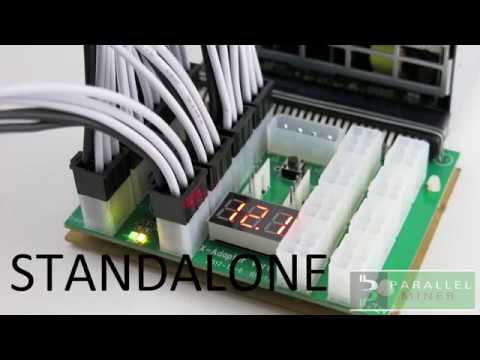 X7B Breakout Board - Parallel Miner